Sidai Albendazole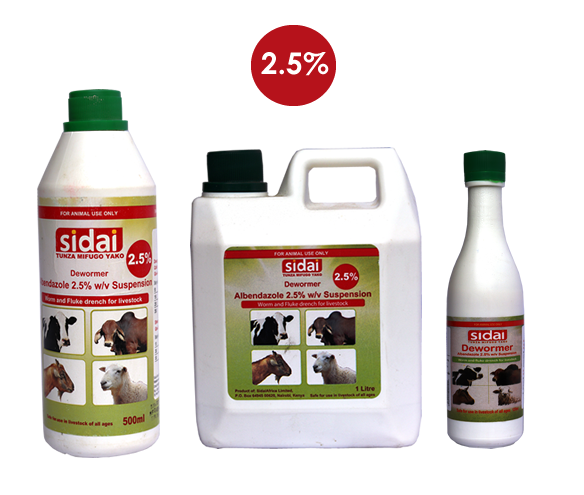 Sidai Albendazole
Sidai Albendazole is a high quality dewormer that kills all stages of all types of worms in our livestock. Available in 10% and 2.5% formulations for ease of administration to all sizes of livestock.
Powerful and fast acting
Sidai Albendazole rapidly kills eggs, larvae and mature stages of all roundworms, tapeworms and liverflukes in livestock.

Safety
Sidai Albendazole is very safe on all animals both young, mature and pregnant.

Pack sizes
Sidai Albendazole is available in 40ml, 120ml, 500ml and 1 litre packs
Why use Sidai Albendazole
Has high and consistent quality for assured protection of your livestock

Rapidly eliminates all types and stages of worms

Ensures faster improvement and return to production.

Is very safe thus protects all our livestock

Is cost effective and available in various pack sizes to suit the herd size.

We offer free quality on farm support through our qualified technical field staff.Use Sidai

Albendazole for a worm free herd.